Calvin Goh
BSc Physiotherapy (State University of New York, Buffalo), Titleist Certified Golf Fitness Instructor, GPTCA Certified ATP Tennis Coach, California Board Certified Physiotherapist and a member of the Singapore Physiotherapy Association.
Calvin has worked mainly in outpatient orthopaedics in Los Angeles and Singapore for the last 18 years treating a variety of patients that include club level baseball, tennis, golf, basketball and professional level athletes in the NBA, ATP Tour, AFL, and Asian Golf Tour. He has also spent an extensive amount of time rehabilitating post operative patients with back, shoulder and knee surgeries. Calvin's special interest is in sports biomechanics correction and movement deficiencies for chronic and repetitive injuries from racket sports, throwing, running, and jumping activities. His body of work involves manual hands-on myofasical and soft tissue releases.
Calvin is constantly attending medical seminars and continuing education classes to update his manual skill set that includes; Rolfing based Myofasical release techniques, Functional Movement Correction, Core Stability Training, Mulligan, Maitland, Mckenzie etc. He often gives lectures on work Ergonomics and Walking/Jogging/Running mechanics.
Consultant Physio SPEED Institute, Singapore
Consultant Physio Tan Chin Tuan Foundation, Singapore
Guest Speaker SPGA Golf Coaches Conference, Singapore
Titleist Certified Golf Fitness Instructor
GPTCA Certified ATP Tennis Coach
Contact Email: calvin@myphysio.com.sg
Bruno Chia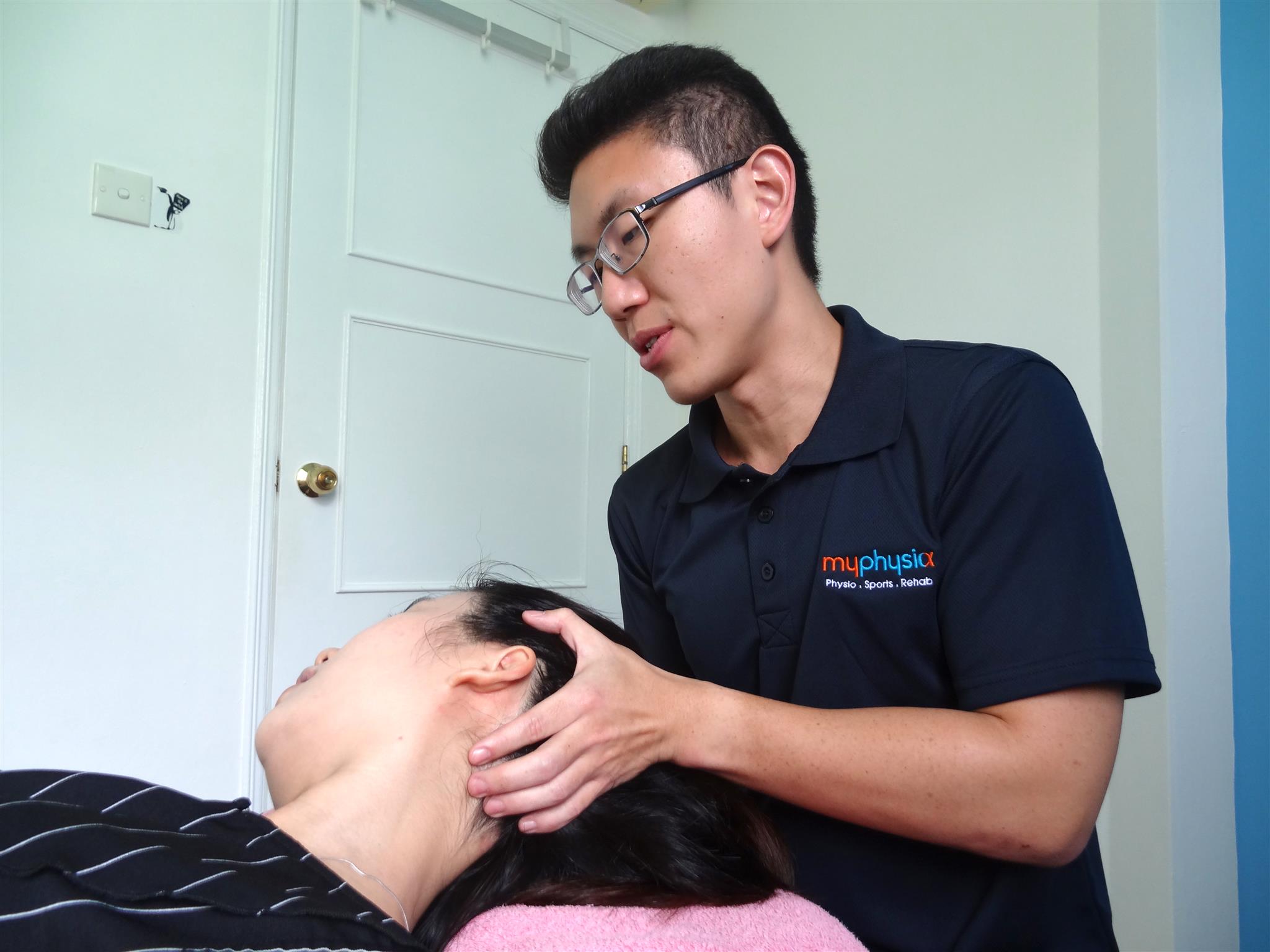 Bruno graduated with Honors from Trinity College of Dublin with a BSc in Physiotherapy, He gained his working experience at Changi Sport Medicine Center (CSMC) with a firm interest in Sports Physiotherapy. He was the team leader at CSMC and was the Principal investigator in a multi-department musculoskeletal disorder research group. He won both the Changi General Hospital Best Service award and the Eastern Health Alliance Caring award in 2014.
Bruno's specialties is in neck, back and shoulder rehabilitation, bio-mechanics correction involving sports and functional movement. He was the official physiotherapist for major local and international sports events in Singapore including: South East Asian Games 2015, World Rugby 7s 2014, National Netball Super League and Singapore schools Inter-varsity Taekwondo Competition.
He enjoys seeing both sport athletes and the elderly population alike for surgical and non-surgical musculoskeletal and spinal conditions. He uses a multitude of hands on techniques for treatment that involves Myofascial Release, Muscle Energy, Dry Needling, Spinal and Peripheral Joint Manipulation or Mobilisations.
During his free time, he plays Rugby, Taekwondo, Badminton and Running with Running Department. He is also the Editor for Sports Medicine Association Singapore and contributes to the SMAS running shoes review programme as one of the panel reviewers. Bruno is a certified Exercise is Medicine Singapore practitioner and certified Kinesio RockTape Instructor.
Contact Email: bruno@myphysio.com.sg